SmoothDraw
SmoothDraw is an easy natural painting and digital free-hand drawing software that can produce high quality pictures. Support many kinds of brushes (pen, pencil, dry media, airbrush, bristle brush, image hose, etc.), retouch tools, layers, etc.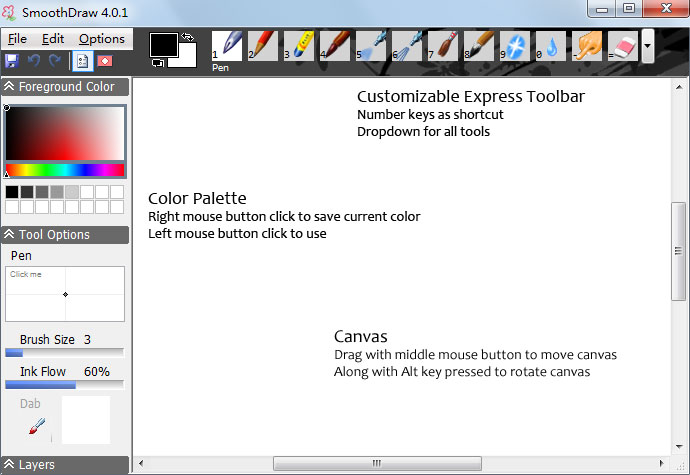 Download
Version History
New for 4.1.4 beta
Changed brush cross-hair cursor to pen cursor, which is more visible on HD display.
New for 4.1.3 beta
Removed the feature of temporarily switch to eyedropper when pressing Ctrl key when using brush, because quite a few users have issue with it.
Enabled .json based localization for resize dialog.
Add Ctrl+Shift+Z for redo, in addition to Ctrl+Y.
Greek localization files provided by geogeo.gr.
New for 4.1.2 beta
Convert remaining dialogs to WPF so that they work well on high DPI display.
Hatch brush is back.
.NET Framework 4.6 is now used.
New for 4.1.1 beta
Main window is rewritten with WPF, so should work for high DPI display.
New for 4.1.0 beta
Removed dependency on WinTab32, which is the old tablet device interface. Now it uses Windows system's ink device support, which should have better compatibility with various types of input devices.
New paint window UI, which is written on top of WPF. Going this path paves the way to support Windows 10 devices in future.
New for 4.0.5
Draw straight lines by holding Shift key. (Experimental)
New for 4.0.4
Fix .sddoc save/load failure. This bug is introduced by a build time tool which is used since version 4. This means .sddoc files saved by 4.0.1 - 4.0.3 cannot be opened by other versions. You have to resave files in an other format so that other version can open them.
New for 4.0.3
Shortcut key for colors in palette
New for 4.0.2
Bring back shortcut keys for copy/paste
New for 4.0.1
New design direction and new UI
Localization by JSON files (Anyone now can create translations by copying and modifying these JSON text files. Just put them in a subfolder named after ISO culture name. E.g. de-DE, fr-FR, ru-RU.)
Upgraded to .NET Framework 4.0
---